there are few people who don't share a love pizza. What better way to enjoy it than to make some at home. The recipe below is one of an easy pizza base using instant yeast that allows one to not need to wait that long before we bake. so try out the recipes and do let me know how they turn out.
Ingredients
1 3/4 to 2 1/4 cups of flour or atta
3 table spoons oil
1 1/2 teaspoons sugar
2/3 cup very warm water (not hot warm like 50* C )
3/4 teaspoon salt
1 packet Instant yeast (8 gms or 2 1/4 teaspoons)
Preheat your oven to 220*C
In a large bowl mix 1 cup flour or atta, undissolved yeast, sugar, salt. Add water and oil and mix well till it's held together.
Slowly add enough of the flour till a small dough ball is made. The dough will be sticky.
Now knead on a floured surface till the dough feels elastic about 4-5 mins. Add additional flour till you get the right texture. Spread onto a greased sheet with oiled hands and top as desired.
For pizza top as desired and bake on the lowest shelf 12-15 minutes till cheese bubbles or crust is brown.
For focaccia spread onto a baking tray add toppings etc and bake till desired color is reached (12-18 mins)
This recipe makes about 2 thin crust 12" pizzas or one deep dish 12" pizza
You can use half atta half maida as well for this recipe.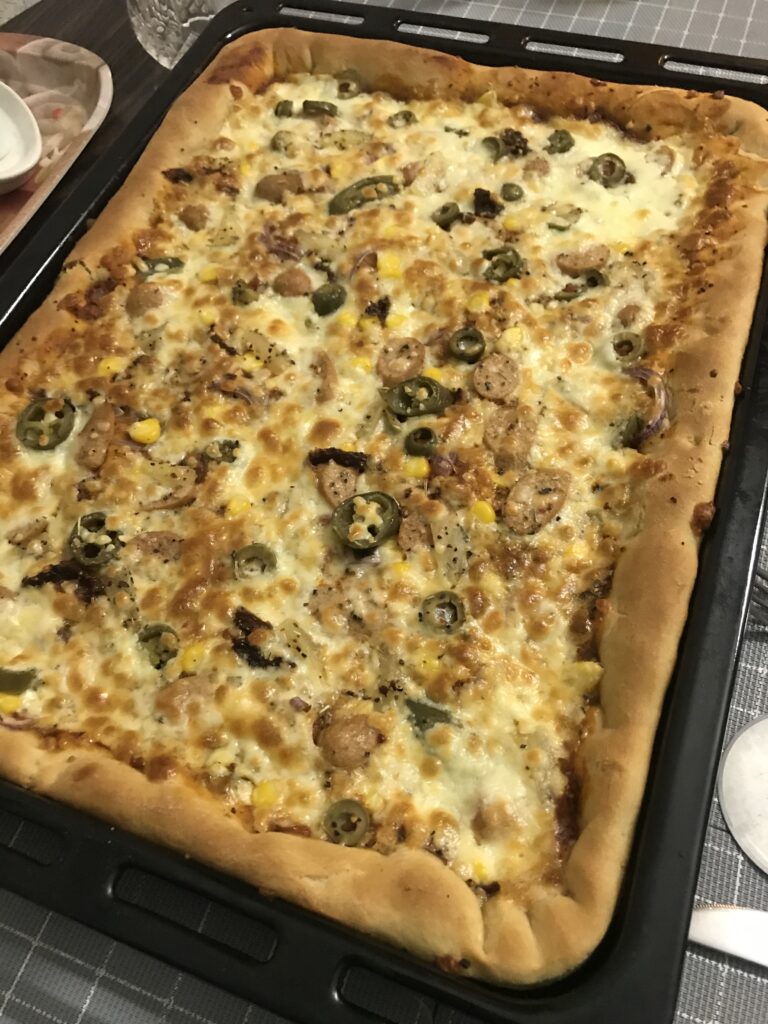 As some people also wanted a non yeast recipe, I am sharing one below. I personally prefer the yeast recipe, but this one works well too.
Non-yeast Pizza Base recipe
Ingredients
In a mixing bowl or pan take 3 cups all-purpose flour, ½ teaspoon salt and ½ teaspoon sugar.
Add ½ teaspoon baking soda.
Then add 1 teaspoon baking powder. mix very well.
Add 2 tablespoons of olive oil.
Next add 1 tablespoon lemon juice. Substitute 1 tablespoon vinegar if you do not have lemon juice.
Add water in parts.
Begin to mix.
And then knead the dough.
Keep on kneading till you get a soft and smooth dough. Add water in parts. I added ½ cup + 2 tablespoons water. You have to really knead very well. Knead at least for 10 to 12 minutes.
The dough should become elastic and stretchable. Take a portion and stretch it. It should not break.
The pizza dough should not be sticky but tacky. Tacky means that when you press the dough, it leaves your fingers or peels from it, without any dough sticking to your fingers. Obviously, if the dough is sticky, it will stick to your fingers. In case the dough becomes sticky, then add some more flour and knead again.
Rub some olive oil all over the dough and keep covered in a bowl. Allow the dough to leaven for 2 to 2:30 hours.
After 2 hours, Punch one of your fingers in the dough and the depression should give away.
Before making the pizza, knead the dough again.
If not using immediately, then cover the pizza dough in an aluminum foil or a keep it covered in a closed container in the fridge. You can also freeze the pizza dough and it will stay good for a month.
Notes
Add more water if required while kneading the dough.
Add vinegar instead of lemon juice.
Any other neutral flavored oil can be used instead of olive oil.
Recipe can be doubled.
Baking powder and baking soda cannot be substituted for each other.
Toppings as you feel fit
Cook at 220 degrees centigrade in the over on the lowest shelf till cheese melts