Now before anything else I'd like to say, no this not puff pastry, no this is not a traditional flaky pastry and no it doesn't follow any conventional rules. But yes, it's super easy and works wonderfully with a variety of bakes whether sweet or savory. I'll share examples where I've used this multiple times.
Ingredients
Believe it or not, it literally has just 3 things in it. Just butter, flour and water. you can twist it up and mix in some nice cheddar for pies and savory bakes as well. The idea is to keep the flour to fat ratio as 2:1 and everything should be ice cold. I even put the flour into the fridge on a day I want to make this pastry dough. The water is ice cold, the butter is cubed but cold! Let's make a dough for about 12 sausage rolls (using full sized franks) or enough for 8 pattices.
500 gm refined flour (kept as cold as possible)
250 gm cold butter cut into small cubes
Ice cold water.
Salt as per taste if you are using unsalted butter.
Powdered sugar as per taste if you want to make something sweet.
Method
In a large chilled mixing bowl take the flour. Add the butter to this and press the butter in to the flour with with your fingers. You will land up with a cold chunky pile of flour covered butter bits.
Add ice cold water to the flour and butter mixture just enough to bring the dough together. Do not knead! just pick and collect the dough till it forms a ball.
Cover the dough ball in cling film and place into the fridge for at least 20-30 mins.
Take the dough out of the fridge and on a well floured surface with a floured rolling pin quickly start to roll out into a long rectangle. Start by pressing the rolling pin into the dough in the center a few times to make indents and then when you feel you have managed to flatten the dough a bit, then start rolling. The dough would look very marbled with streaks of butter through entire surface. Roll it out till you have a longish rectangle about 5-6 mm thick.
Fold the bottom 1/3 of the rectangle up over the middle part of the rectangle (like one would do with a letter).
Fold the top 1/3 over the folded bottom 1/3 to complete the letter fold.
Rotate the folded dough by 90° and repeat steps 4,5 and 6.
Do this 3-4 times but only till the dough still feels cold.The moment it starts warming up return it to the fridge and cool about 20-30 minutes before resuming. (Always stop the process when needed after step 6)
The more times you manage to do the letter folds the more layers we will end up incorporating and adding to the flakiness of your pastry.
the trick is to work fast and to work on a cool surface in a cool room. If you feel your counter top is warm cool that by placing ice in a baking tray on the stone top before you start the rolling. remember your hands should be cool too when you handle your dough.
once you have done enough layers set aside to cool one last time and then roll out and use as per need
Once ready to cook brush on some egg or milk and then bake at 180 degrees centigrade till golden brown for around 25-35 minutes depending on your oven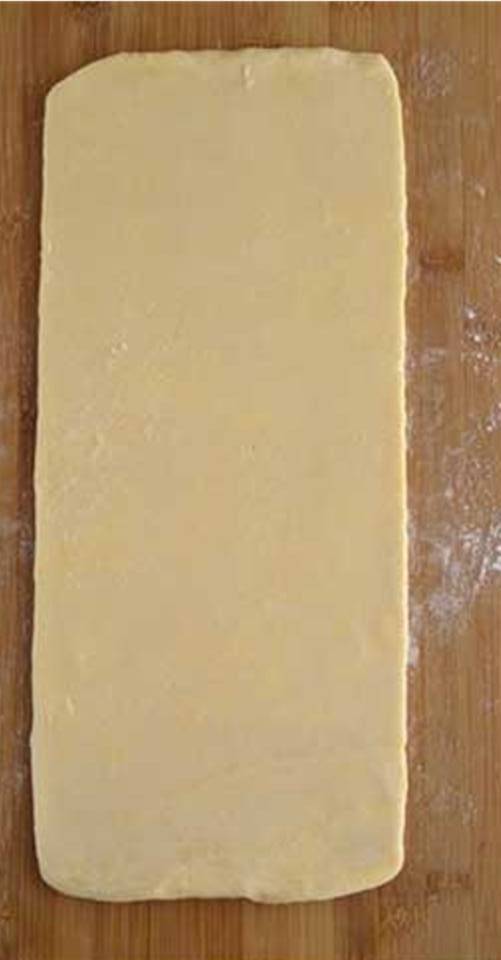 I'm adding below some pictures of dishes where I've used this flaky pastry. It's fairly versatile and easy to use. You can even add some shredded cheddar cheese in the dough with the butter for a nice texture in puffs etc. just keep in mind to maintain the fat to flour ratio.