This preparation works well as a side with an Indian meal of Dal and Rice or to be enjoyed with some Pav or bread. I even love it with mashed potatoes and sometimes just as an appetiser. It's super easy to make and always turns out very very good. Basic ingredients, and some patience is all that you need.
Ingredients
500 gm Pork cut into cubes (we need fairly fatty meat so belly works well)
3 Medium onions cut into largish cubed
A large thumb of singer coarsely sliced
9-10 cloves of garlic whole just slightly smashed
5 Kashmiri whole red chillies ( adjust quantity if using hotter chillies)
2 Tablespoons vinegar
1 Tablespoon sugar
Salt as per taste
Method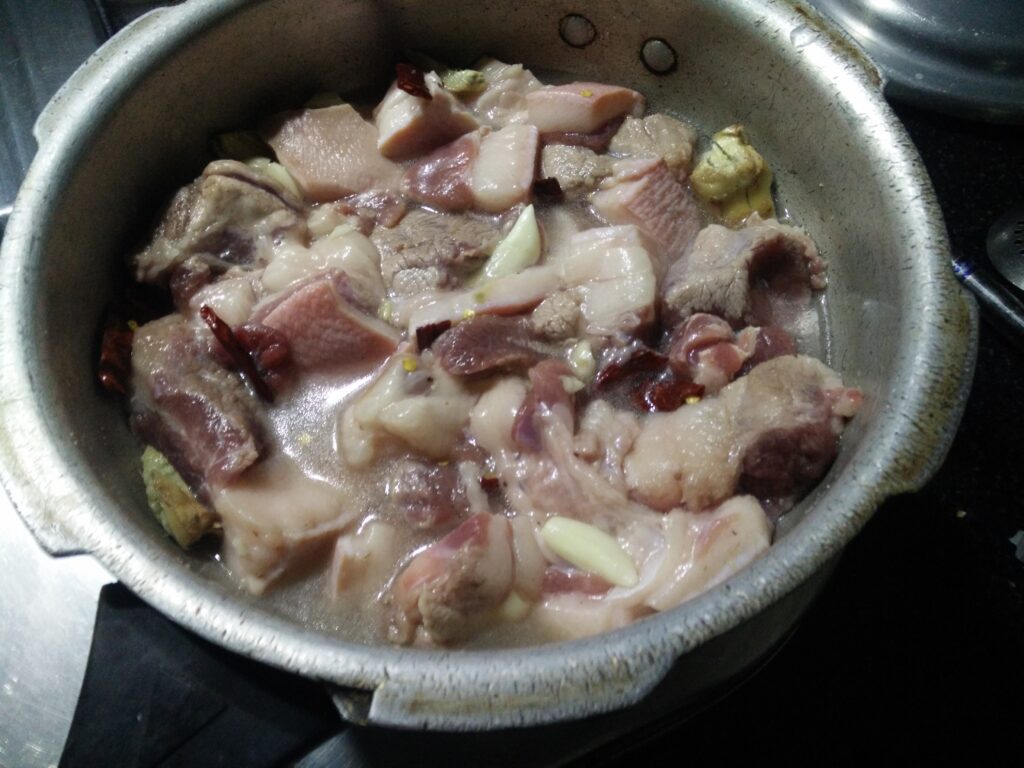 In a pressure pan take all the ingredients and mix well. The chillies can be cut into big pieces to help spread the flavours.
Add about a cup of water and bring the pan to boil. Once you see it bubbling shut the cooker and then reduce heat completely. Let this cook for minimum 5-6 whistles on low so that the meat is well cooked. Make sure you have enough liquid in your pan for it not to burn during the long whistles.
Once the steam is released open the pan and check the meat. Tt should be tender and the fat perfectly cooked through and melting now. If you want to keep a bit of sauce serve as is or dry off the water to a sticky coating.
Enjoy!