A fairly complex meal but worth all the effort. The separate dishes in this feast have been added to our favorites palate from different trips and experiences in our lives. Of course having Yeti, The Himalayan Kitchen in your city helps revisit the flavours over and over again. I shall try my best to share my recipes and versions of these famous dishes.
Alu nu Achaar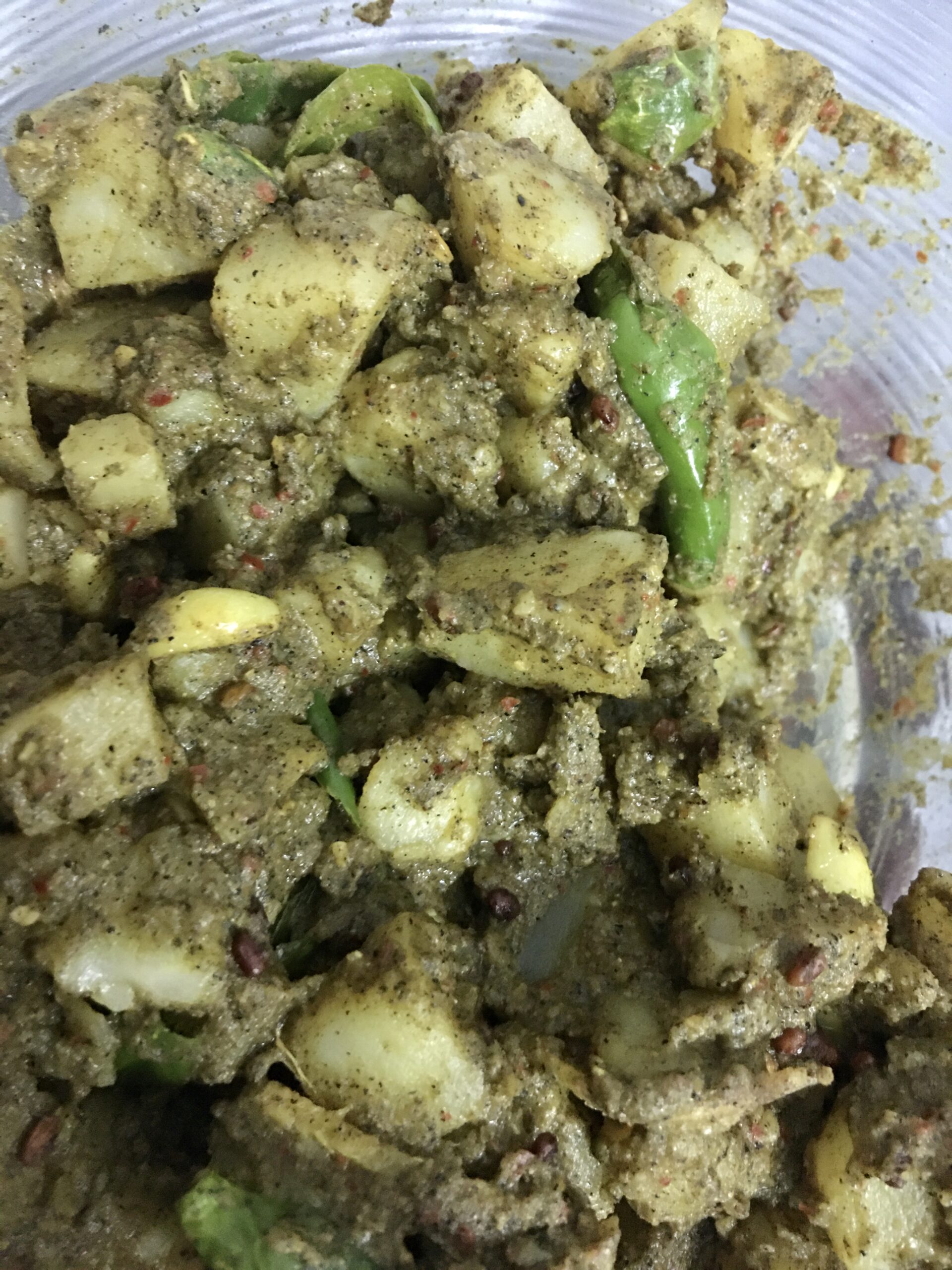 I've been told that no traditional Nepalese meal is complete with some or the other achaar (fresh tangy salad) on the table. It usually has a spicy tangy dressing that is mostly sesame seeds, red chillies, lemon and some spices. I'm sharing with you the recipe for Alu nu Achaar as taught to me by our Napalese nanny.
Ingredients
3 Medium Potatoes boiled and cut into cubes.
3 Green chillies julienned.
A bunch of coriander coarsely cut.
2 Tablespoons white sesame seeds.
3 Whole dry kashmiri red chillies.
Juice of one lemon.
1 Spoon fenugreek seeds.
Salt as per taste.
Method
In a frying pan dry roast the sesame seeds and the dry Kashmiri red chillies till the aromatics are realised and the sesame seeds pop. remove onto a plate and let this cool a bit. Grind into a smooth paste in a mixer, add a few drops of water when needed.
In a frying man heat one spoon of oil. Add the fenugreek seeds and slightly brown. Add the julienned green chillies and take of the heat immediately.
In a large bowl mix the boiled potato cubes with the sesame and chilli paste. Add the fried fenugreek seeds and green chillies. Drizzle the lemon juice into this and mix well. Now add the coriander leaves and gently toss this mixture.
Serve cool.
Ting mo (steamed buns)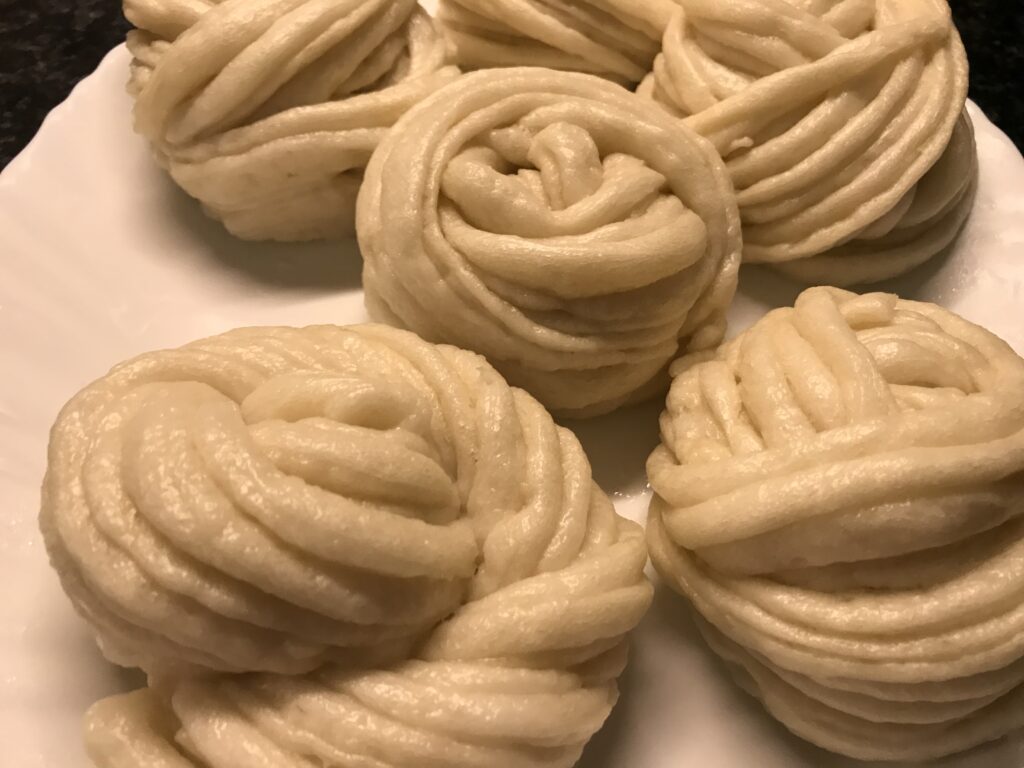 A steamed bread native to Bhutanese and Tibetian cuisine the TingMo goes beautifully well with a variety of dishes. Whether its a wonderfully spicy and creamy Datshi or stir fried pork chilly the soft buns make a wholesome side.
Ingredients
250 g Maida (flour)
5 g Salt
10 g Sugar
3 g Dry yeast
145 g Warm water
2 tbsp Vegetable oil (for greasing)
Method
In a mixing bowl, combine the flour, salt, sugar, yeast, and water. (activate your yeast as needed by following instructions on the packaging, I often use instant yeast so I just mix it in with the dry ingredients and then completely avoid the first rise). Once the ingredients have come together, transfer the dough to the work surface.
Knead the dough for 15 minutes, repeatedly folding the dough over itself to develop gluten. Round the dough by tucking all the edges at the bottom and return it to the mixing bowl, now greased with oil, to prevent the dough from sticking.
Cover and proof the dough in a warm place for 1 hour, until the dough doubles in size.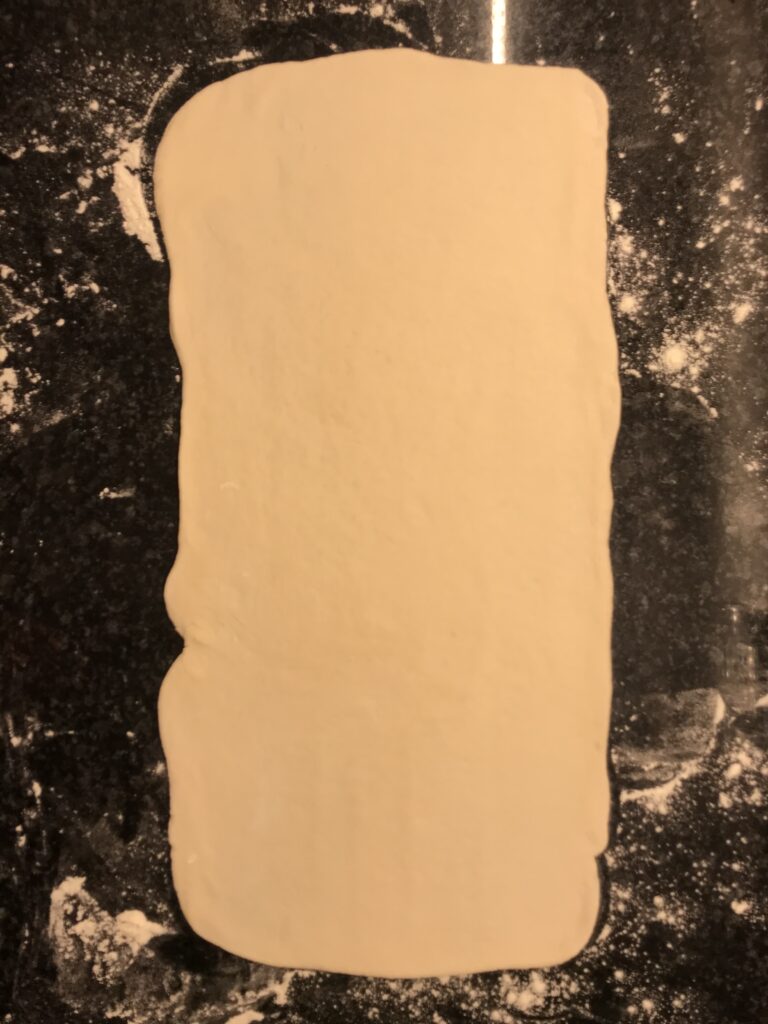 Dust the work surface with flour and transfer the dough to it. Flatten the dough into a rectangle with your palms. Using a rolling pin, roll the dough into a thin sheet, 40 cm by 45 cm in dimensions, maintaining its rectangular shape as much as possible.
Apply oil on the sheet and fold its longer side into thirds.
Use a knife to divide the folded dough into four equal parts. Divide each quarter further into 6 long strips.
Stack the strips in pairs of threes such that you now have five sets of strips.
Roll into a knot and tuck the free end under the bun. Place into the greased steaming dish.
Once all the tingmos have been formed, cover the dish and allow them to proof for another 30 minutes or till they grow substantially in size
before setting them over boiling water to steam.
These buns take no longer than 10 to 12 minutes to cook perfectly. Do not over-steam or the bread might become rubbery.
Serve immediately they are still warm.
‍
Crispy Spinach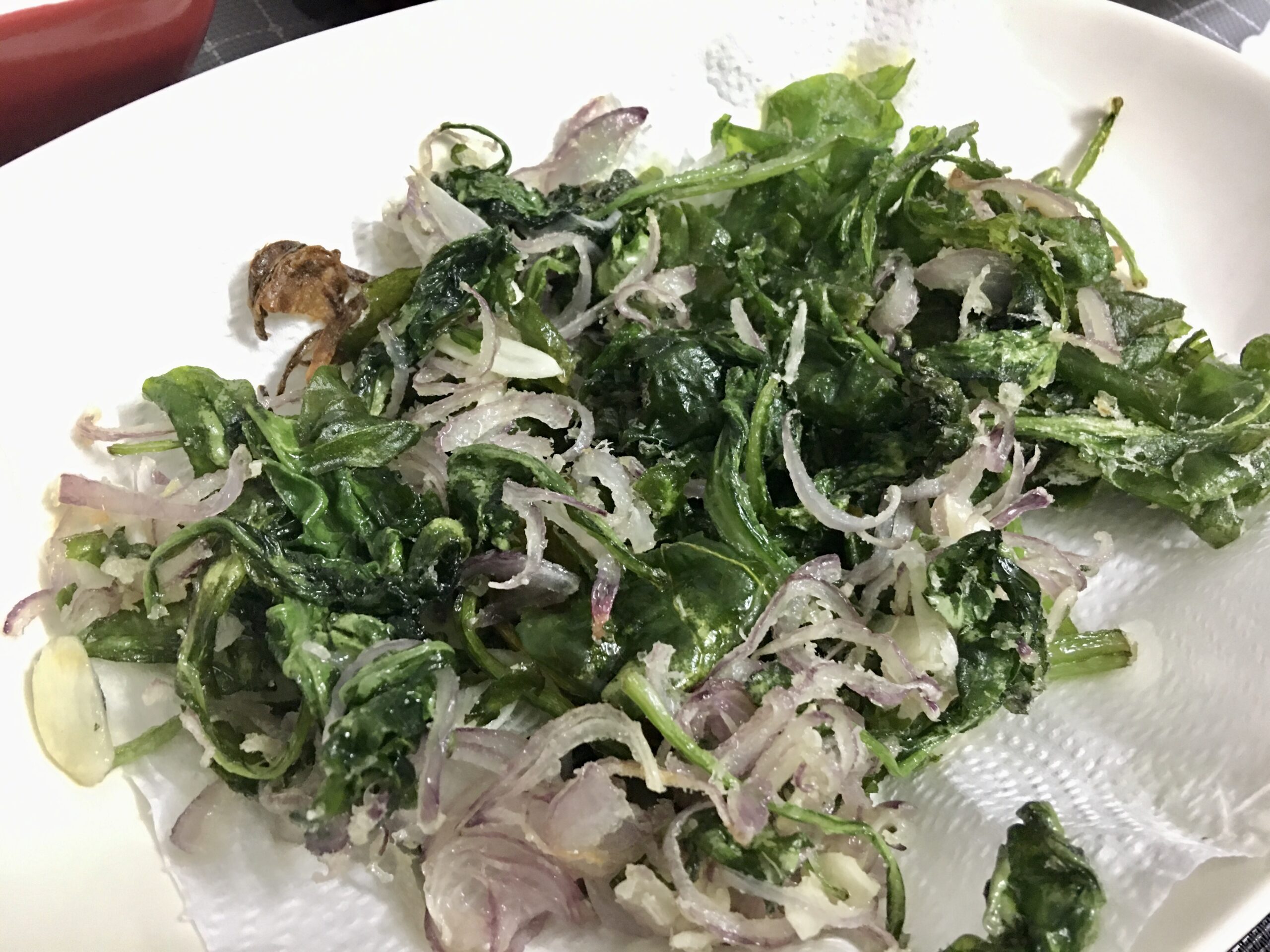 A surprisingly different preparation for a leafy vegetable. We are so used to spinach being in a soup or as a saag basically mostly mushy. This is a fabulous way to enjoy all the flavour spinach has and the crunchy texture add so much drama. I add some finely sliced garlic and onion into the work with the spinach for added flavour. A simple few ingredient recipe that is super easy to make.
Ingredients
500 gm Spinach picked and stems removed. Leaves kept whole.
5-6 cloves of garlic thinly sliced.
1 Onion thinly sliced.
2-3 Tablespoons corn flour
1 Teaspoon salt (adjust as per taste)
Oil to deep fry the spinach.
Method
Heat the oil in a wok and bring to a suitable frying temperature.
In a large mixing take the spinach, garlic and onions. Sprinkle this mixture with the cornflour and mix well.
Add the salt to the mixture, toss quickly and fry immediately. If you leave it long the vegetables will leave water and you'll only get a mushy mass rather than crispy fried leaves.
Once crisply fried remove on to a plate lined with a paper towel and let any excess oil drain off.
Serve immediately.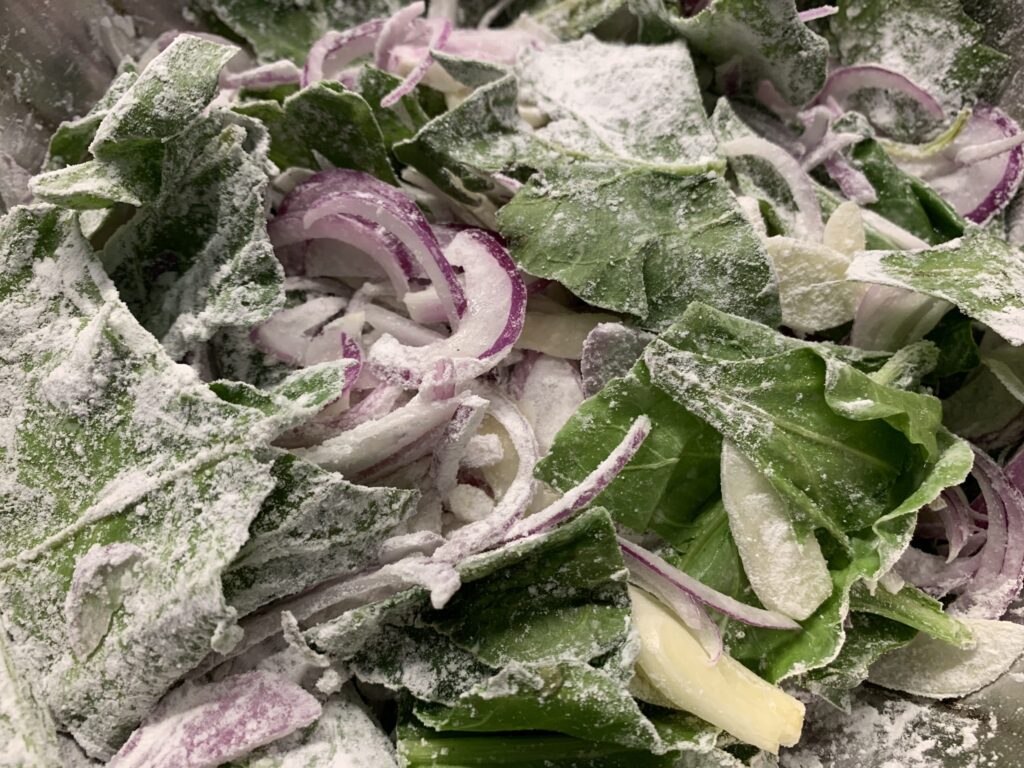 Chilly Pork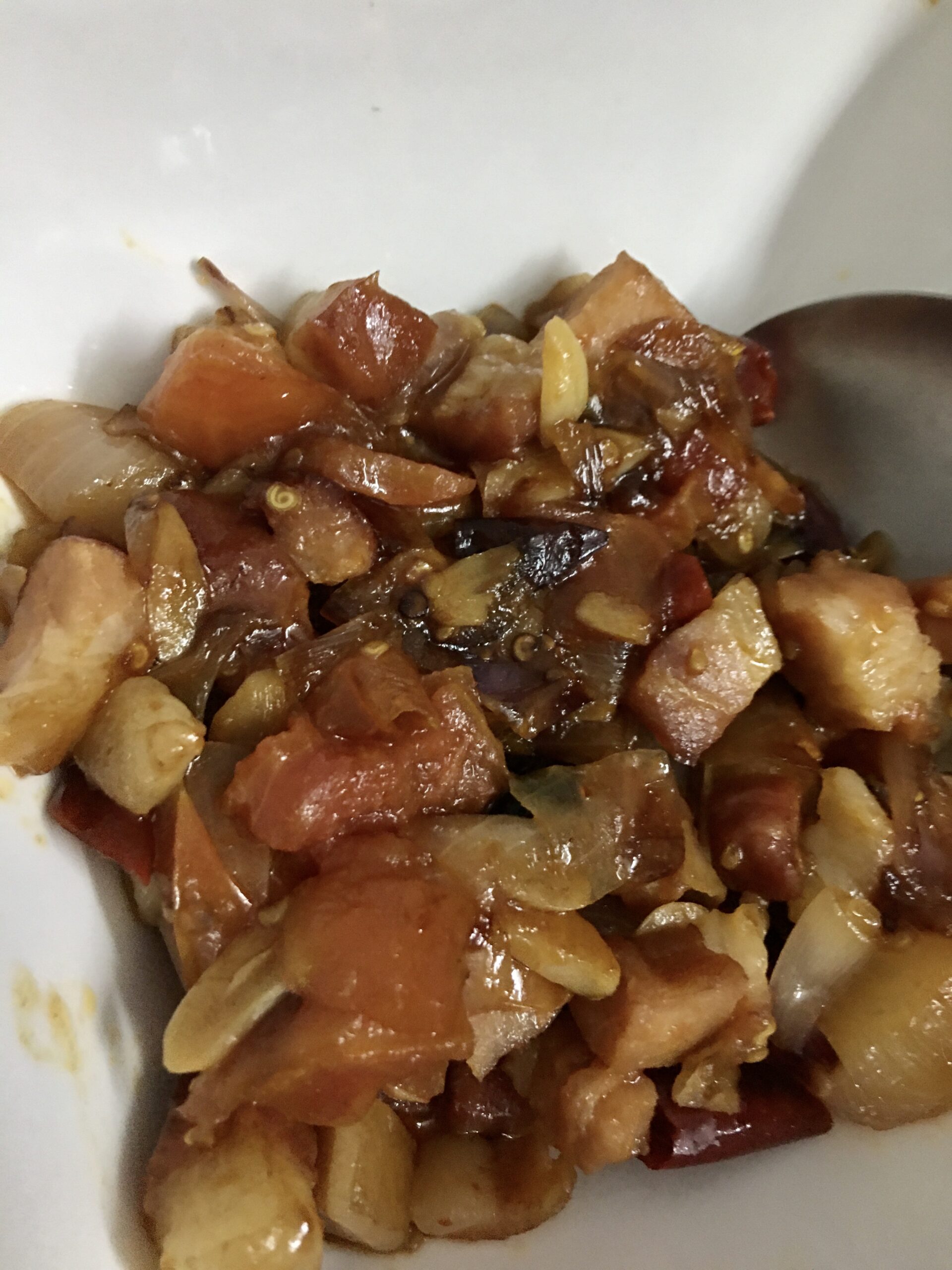 I wanted to add some tang and zing to our himalayan feast and we had some cubed smoked pork belly in the larder. So I tossed it up in a pan with some roughly cut onions, tomatoes, garlic and whole red chillies add some seasoning and there it was ready. I'm sharing the recipe below for you.
Ingredients
250 gm Cubed smoked pork belly.
3 Whole dry red chillies cut into large pieces.
1 Onion cut into large cubes.
1 Tomato cut into large cubes.
5-6 cloves of garlic roughly chopped.
2 Spoons vinegar.
1 Spoon sugar.
Salt as per taste.
Method
In a large frying pan heat a spoon of oil and fry the garlic and onions with the dry red chillies.
Add the cubed pork and fry well till the pork cooks.
Add the sugar and vinegar and salt. once the sugar has melted it will add a nice glossy layer to the meat and onions. Now add the chopped tomatoes.
Add a few spoons of water and cook well till all the meat is coated with the masala created by sugar and tomato.
Serve hot.
Ema Datshi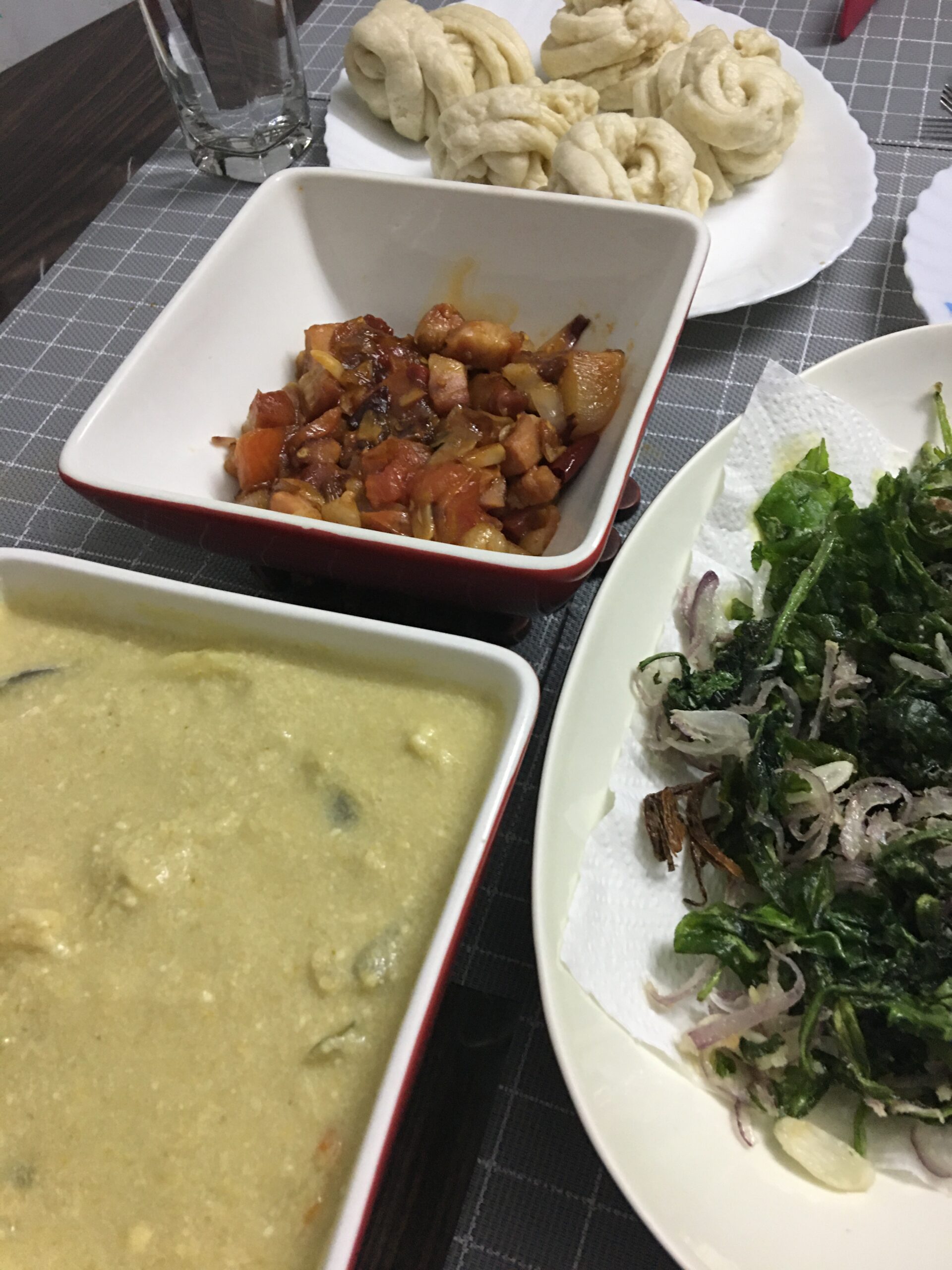 This lovely creamy dish of chillies and cream is the national dish of Bhutan. It is also prepared in many parts of Nepal, Tibet and even some parts of Northeast India, but true love for it is seen all over Bhutan even in the smallest of eateries. We first got introduced to it at restaurant in Delhi but as we travelled into the himalayas and to Bhutan in late 2019 our love for it grew fonder. The name of the dish itself 'Ema' and 'datshi' literally stand for 'chillies' and 'cheese', and as such can be made using one or more varieties of either ingredient. 'Datshi' is also used to refer to any cheese-based soup (the version with potatoes, for example, is called 'kewa datshi' where 'kewa' means potatoes). I'm sharing the basic recipe of the dish as told to me by the chefs at some restaurants in Bhutan. Hope this is similar to the taste you are looking for.
Ingredients
220 gm Jalapeños (quartered)
6 gm Green chillies (slit)
70 gm Onions (sliced)
15 gm Garlic (roughly chopped)
50 gm Tomatoes (diced)
75 gm Cheese (grated)
15 gm Butter
7 gm Vegetable oil
5 gm Salt
250 gm Water
Method
Remove the stalks off the chilli peppers and cut them in quarters lengthwise. Also slit the green chillies, slice the onions, roughly chop the garlic, and dice the tomatoes.
Add all these ingredients to the pan along with the salt, oil, and 250 g water.
Turn on the heat and cover the pan with a lid. Allow everything to boil on medium heat for 15 minutes until the peppers have softened.
Turn off the heat and add the butter and grated cheese. Killing the heat before adding cheese will prevent it from curdling. Stir these in until the cheese has melted.
Check for salt, which will vary depending on how salty your cheese is. Serve hot.
You can also add a few thickly sliced boiled potatoes for a Potato Dashi.