Mutton is a meat enjoyed far and wide all over the Indian subcontinent. We love it every form be it as Tikkas & Kababs preparations or wholesome gravies. The recipe I'm taking about today is a kind of recipe followed in northern India in the states of Rajasthan, Uttar Pradesh and maybe even Haryana. It's a nice rustic method of cooking and taste better if prepared in mustard oil. One can drop in a few potatoes or Arbi (Taro) into the gravy too. The potatoes turn into soft pillows and the Arbi often ends up tasting just like chunks of bone marrow. Do give this one a whirl! Trust me it's worth it.
Ingredients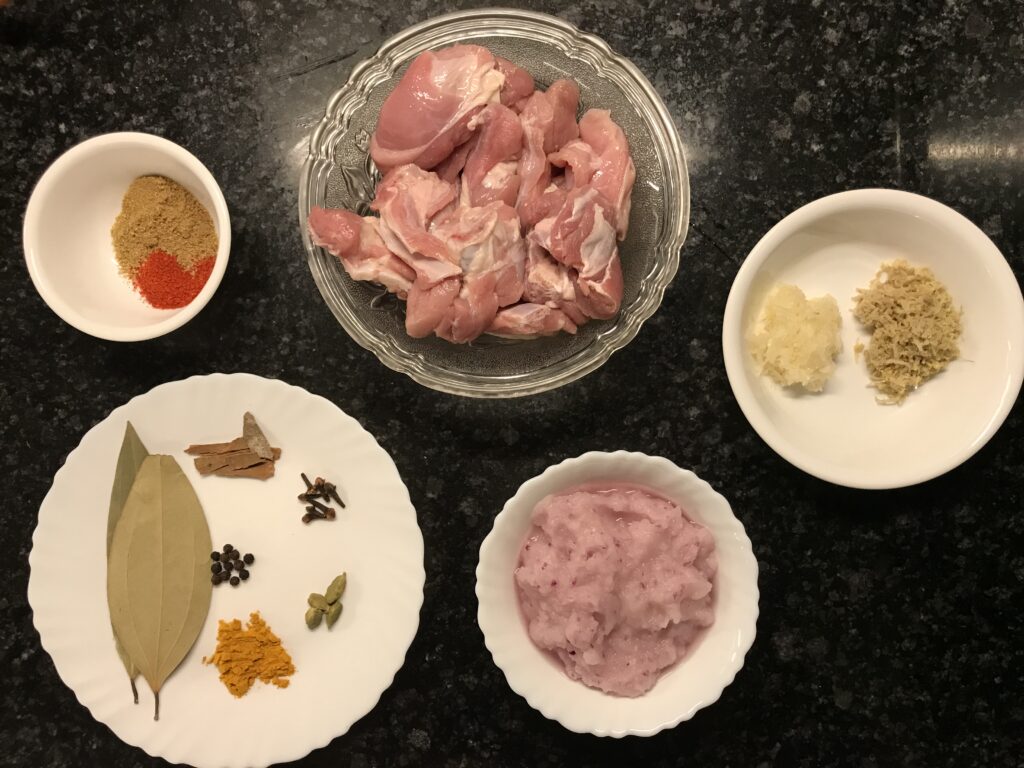 This recipe serves 3-4 people.
500 gm Mutton
2 medium potatoes peeled and cut into fours
4 – 5 medium onions grated or Made into a paste
1 Teaspoon Ginger grated or minced
1 Teaspoon Garlic grated or minced (don't mix with the ginger keep separate)
2 Teaspoons Dhaniya powder
1 Teaspoon red chilli powder
½ Teaspoon Haldi
Salt as per taste
4-5 whole peppercorns
4-5 heads of clove
4 green cardamon cracked
1 Bay leaf
1 Inch piece of cinnamon
2 Teaspoons mustard oil
Method
Wash the mutton and set aside to drain off the excess water.
In a cooker take the mustard oil and heat it till it smokes and lightens in colour. Add all the whole spices and roast them till you get a nice aroma.
Add the onions and brown nicely to dry up all the water.

In a small Katori take the turmeric powder, red chilly powder and the Dhaniya powder add a few spoons of water and make it into a smooth paste. Add the garlic to the nicely browned onions and immediately add this masala paste to the pan. Roast all of these things well.
Once you smell that the garlic has roasted add to this the mutton and cook on high for just a few minutes to seal the meat surfaces. Now reduce the flame and cover and cook for about 10 minutes till the meat leaves it's water. Open the lid and reduce the water nicely, stirring well to help roast the mutton evenly.
Now add the ginger, about 1 cup water (your meat should be just covered), potatoes and salt as per taste. Shut the cooker and let it take a few whistles (4-5) till the meat cooks. Let the cooker whistle for the first time on high and then the rest on a low flame.
Open and check the gravy for consistency.
Serve with steamed rice or rotis.